CPR/First Aid – designed for industry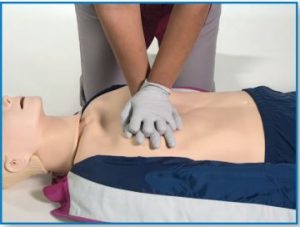 —-Medic First Aid (Version 8.0) BasicPlus CPR, AED, and First Aid for Adults
To meet OSHA and AED Training requirements, "Source Authority" 2015 American Heart Association Guidelines, Cardiopulmonary Resuscitation and Emergency Cardiovascular Care.
The goal of this program is to help you gain the knowledge, skills, and confidence necessary to manage a medical emergency until more advanced help arrives.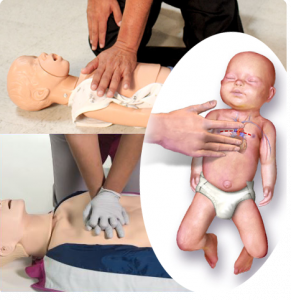 —-Medic First Aid (Version 8.0) PediatricPlus CPR, AED, and First Aid for Children, Infants and Adults
This training program has been specifically designed to meet national standards for pediatric first aid, CPR, and AED training and is intended for individuals who desire or are required to be certified in pediatric CPR, AED, and first aid, most notable for those who are child care providers.
The goal of these training programs is to help students develop the knowledge, skills, and confidence to respond in a medical emergency.
These trainings focus on your essential responsibilities as a first aid provider:

Recognizing a medical emergency
Making a decision to help
Identifying hazards and ensuring personal safety
Activating the Emergency Medical Services (EMS) system
Providing supportive, basic First Aid care.

You will learn about:

Scene safety
How to protect yourself from the risk of blood borne pathogens
First aid and the law
Basic life saving skills
Basic Automatic External Defibrillator (AED) operation
How to perform a physical assessment and obtain a patient history.
UPCOMING COURSE DATES
CPR, AED, and First Aid for Adults

8:30 am – 12:30 pm

CPR, AED, and First Aid for Children, Infants and Adults

8:30 am – 4:30 pm

Friday, September 25, 2020
TBD
Monday, October 26, 2020

Billings courses are held at the MSSC Training Center, 3435 Mountain Pass Road
Onsite or additional classes will be added depending on class size, location, and trainer availability.
CANCELLATION POLICY: If you must cancel, please do so at least 2 business days prior to the start of training. Any cancellations received with less than 2 business days' notice, will be billed $50. Please call our office at 406.248.4893 or email reg@mssc.org to cancel. Substitutions are welcomed with prior notice.