Noise Monitoring Rentals
REED 8080 Data Logging Sound Level Meter with Bargraph
This data logging sound level meter has the ability to record samples on internal memory and keep track of registered readings with a time and date stamp. The R8080 features user selectable sampling rates.
Features
High accuracy of ±1.4 dB meets Type 2 standards
Triple range measurement (60dB dynamic range)
A & C frequency weighting
Fast & Slow time weighting
Record up to 64,000 datapoints and keep track with internal time and date stamp
User selectable sampling rate from 1 to 60 seconds
Easy-to-read backlit LCD display
Digital analog bargraph
Min/Max hold and auto shut off
Tripod mount for long-term monitoring
Low battery indicator
Rental Pricing
---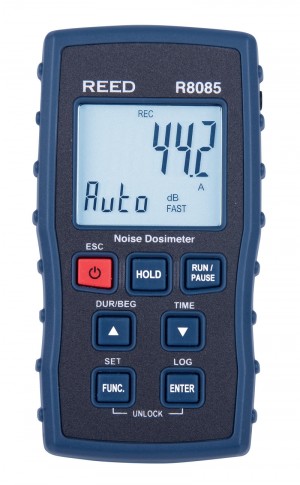 REED 8085 Noise Dosimeter
This noise dosimeter has the ability to record sound levels (dB) and sound exposure (dose %) in order to determine an individual's sound exposure over an 8-hour period. The R8085 is a lightweight and compact Dosimeter designed to meet noise survey requirements established by OSHA (Occupational Safety and Health Administration) and the CCOHS (Canadian Centre for Occupational Health and Safety). This rental includes 2 R8085s.
Features
Noise dosimeter, sound level meter and data logger
High accuracy of ±1.0dB meets Type 2 standards
Designed to meet noise survey requirements for compliance with OSHA and CCOHS regulations
Personal sound exposure meets IEC 61252, ANSI S1.25
A and C frequency weighting
Fast and Slow time weighting
Lightweight and compact design
Adjustable Criterion Level, Exchange Rate and Threshold
Easy-to-read backlit LCD display
Data hold and Min/Max hold
Low battery indicator and auto shut off
Rental Pricing
Customers will have noise monitoring results printed out after devices are returned.
*For a full written report, additional charges may apply.